A few hours ago, I released a pretty nice improvement to Meshcentral.com, much improved Intel AMT Hardware KVM support. If you happen to manage computers with Intel AMT 6.0 or above with the right CPU and no added graphics card, you have a remote desktop server built right into your computer's hardware. It's basicaly a VNC server.
---
Welcome to the RTFB (Reaching Technology From Blogs) Episode 7 Blog. Guests on RTFB are given an opportunity to talk about their blogs.
多线程这个令人生畏的"洪水猛兽",很多人谈起多线程都心存畏惧。在Android开发过程中,多线程真的很难吗?多线程程序的"麻烦"源于它很抽象、与单线程程序运行模式不同,但只要掌握了它们的区别,编写多线程程序就会很容易了。下面让我们集中精力开始学习吧!
  多线程案例——计时器
  我在给我的学生讲多线程的时候都会举一个计时器的案例,因为计时器案例是多线程的经典应用。
  这个案例中,屏幕启动之后,进入如图8-1所示的界面。
  屏幕上有一个文本框用于显示逝去的时间,此外还有一个"停止计时"按钮。案例的用例图如图8-2所示。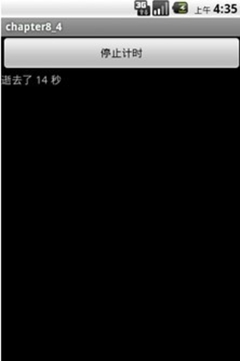 ▲图8-1 计时器界面
The Intel® Developer Zone Business Client Community is more than pleased to announce that Vito Fabbrizio is the winner of the Intel® Core™ i5 processor and Intel® SBA technology Lenovo laptop from our recent Intel Developer Forum (IDF) in San Francisco. We want to congratulate Vito on his prize and to wish him all the best on his Business Client endeavors.
The IntelBusiness Client Community is more than pleased to announce that  Vito Fabbrizio is the winner of the Intel® Core™ i5 processor and Intel® SBA technology Lenovo  laptop  from our recent Intel Developer Forum (IDF) in San Francisco. We want to congratulate Vito on his prize and to wish him all the best on his Business Client endeavors