OpenStack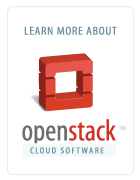 OpenStack is a massively scalable, open cloud computing platform designed for deploying and managing public, private, and hybrid cloud solutions through a single control plane. This open-source project has evolved quickly and many early adopters, including Intel, are using it to orchestrate large pools of compute, storage, and networking resources and to provide IT as a service to end users.
The OpenStack community includes more than 18,000 members and 1,300 active contributors. Intel is a platinum member and a top contributor and is committed to making OpenStack easier to deploy and more capable through code contributions, blueprints, reference architectures, and other technical resources.
Our contributions in the latest OpenStack release lower the barrier to mainstream enterprise adoption by providing simpler and more robust support for high availability, trust and compliance, and cost optimization. Through deeper integration with advanced Intel platform technologies, it enables more intelligent and automated orchestration of compute, storage, and networking resources based on business, IT, and application requirements.
Resources
Improving Performance and Security of Big Data and Cloud Solutions
Using Intel® QuickAssist Technology to Accelerate Public Key Cryptography and Compression
---
Mechanisms to Protect Data in the Open Cloud
New Intel technologies reduce security concerns for public and private cloud deployment.
---
Improving OpenSSL* Performance
Read how Intel developed and released highly optimized cryptographic functions into OpenSSL* to improve the performance of bulk data transfer.
Additional Resources
Visit the Intel® Open Source Technology Center (OTC) OpenStack community portal at 01.org
Attend the OpenStack Summit - Austin 2016
Intel's presence and planned activities at OpenStack Summit - Austin 2016