OK, I have to say it, I'm way impressed with some of what I'm seeing and some of what I'm hearing at CES regarding Intel technologies.  It's a lot for me to take in but I'll do my best to give you guys a highlight of Intel at CES 2012.
Intel Booth
There's a lot happening at the Intel booth from augmented reality with Legos, to In Vehicle artificial intelligence, but the real hit of the booth is the UltrabookTM .  
On the floor we showed 20 Ultrabooks that were untethered so people can pick up hold and feel, all from a variety of OEMs like ASUS, Acer, Lenovo, HP, Samsung, Dell, Toshiba and more.  These were all installed with AppUp showing off known titles like Angry Birds, Nook for PC, as well as new Ultrabook apps like MixMan Spin Control. Additionally 20 staffers walked around with Ultabooks handing them to attendees to feel and experience.  What makes an Ultrabook and is a set of technologies and standards these OEMs are adhering to that make these PC's Ultra-light, Ultra-thin, Ultra-responsive.  All run 2nd Generation Core processors, allowing them to be a computing experience without compromise. Digital artists, photographers, musicians and videographers can do the demanding work, while on the go.  
It was nice these were accessible to attendees, you could see and feel that Ultrabooks are under an inch thick, under 3 pounds (some weighing under 2.5lbs) and have an SSD drive built in for ultra-responsive fast boot times. When attendees picked up an Ultrabook the general reaction was, "Wow this is light", especially when picking up the Toshiba Protege which according to the specs weighs 2.42lbs. Bewilderment is the best way to describe the reaction. Also the ASUS Zenbook UX21 got a lot of reaction as the smallest but packing a punch in a sexy design.  The variety was nice, some with 11" screens, some 13 inch, some using micro ports and some using traditional ports.
The new Dell XPS with Gorilla glass, carbon fibre body and backlight keyboard was super stylish and a favorite with photogs, while the HP Folio sported a comfortable keyboard and higher end of batterylife and SSD.  While these Ultrabooks were on all day they all at the end of the day felt cool to the touch. But my favorite demo was to put it take out of sleep mode, and see people's reaction to getting instant access.  Overall the takeaway was simple, an Ultrabook is as convenient to carry, boot up, always on, and access to apps like a mobile device, but enabling a PC experience without compromise using 2nd generation core processors. 
The other hit of the show was the Smartphone section and demos.  Intel showed off its smartphone reference design powered by the Medfield Atom processor.  The demo focused on the graphics power of the smartphone from web browsing pinch zoom fluidity, to smooth HD video that had no lag or delay. Gaming was also shown, where you saw amazing 3D action in HD.  Finally a 360 video was shown on the phone, which is a video that is a full 360 panorama allowing you to pan, spin zoom in 360 degrees of the video while playing. No noticeable frame rate drop or artifacts seen.  The movement around the video was real time and moved as the camera moved.  Camera tilts up video tilts up, etc.  They could have supplied this area with drool buckets, lots of open mouths watching this demo.
There was much more at the booth, including WiDi demos, McAfee security demos, Thunderbolt, Pair and Share technologies, Android and Win 8 tablet reference designs, interviews and performances with digital artists and interesting touch displays.  
Intel Keynote
The Intel Keynote was jam packed full of demos and announcements.
Out of the gate, an Intel smartphone was announced with Lenovo.  This phone will initially ship in China and be available in the second quarter of this year. This phone will include WiDi allowing HD video to be wirelessly transmitted to TV screens
Our smartphone reference design was announced as well, and to flex some muscles a demo was shown called last phone standing demo.  This was done in time-lapse with another smartphone and Intel phone running an HD video on continual loop.  Time-lapse showed the Intel phone battery long outlasted the other smartphone when doing HD video playback.
Also in the smartphone area the Motorola announced a multi-year commitment to use Intel hardware in products. They announced they too will release a phone this summer powered by an Intel processor
On the Ultrabook side Dell announced they are also selling an Ultrabook and showed off the XPS Ultrabook, with Gorilla Glass, and carbon fiber body. This Ultrabook later made it to the show floor and looks to be a high quality no compromise Ultrabook
Looking ahead with Ultrabooks the keynote took a look at what will be possible with Ivy Bridge.  The demo showed that with an Ultrabook you can have 3 ways on working – using key commands such as as playing complex military 3D game, or using touch in a casual game like Fruit Ninja, or interoperability with another device, such as using a smartphone as a wireless controller to your Ultrabook.  Thunderbolt was also shown as a technology that was able to transfer a full featured HD movie in 20 seconds.  Also shown was a new reference design for hybrid Ivy Bridge powered Ultrabooks, that allow you to switch from Ultrabook to a tablet.
AppUp was featured in the keynote with new apps available for Ultrabooks.  The first mention was with M-Go. M-Go is a rich media app that gives you access to recently released movies, Live TV programs and music.  M-Go will release on AppUp in the spring.  I checked out M-Go at the Technicolor booth which showed M-Go running an iOS, Android and on an Ultrabook.  The Ultrabook demo seemed extra amazing using WiDi, which wirelessly dispays your M-Go content on your HD TV.
And before the keynote ended will.i.am came on stage to discuss project Ultrabook.  This is a project that will take him to 12 countries around the world where he will capture 360 degree photo and 360 degree video content, and create & capture experiences using his Ultrabook.  All of this content will be available from an appvia AppUp called WillPower360.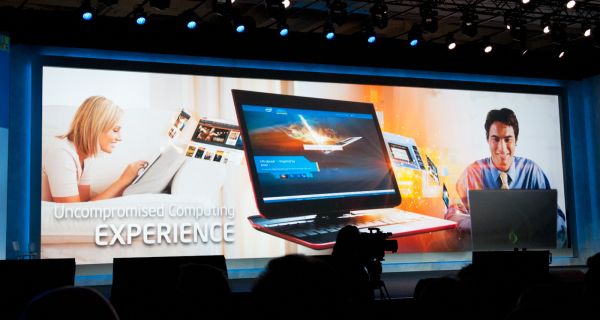 Image courtesy of Anandtech.com
I've been at a number of CES events and this one by far seemed to show positive sentiment to what Intel is doing. Ultrabooks and smartphones are showing a range of mobile computing power without compromise. This paired with rich engaging digital content from AppUp apps, shows Intel is taking the necessary steps to deliver amazing computing experiences. So a great CES from my perspective.  And it appears I'm not alone. I heard from a number of industry folks, not affiliated with Intel that we were the hit of the show.  Obviously there is some bias and favor when saying that to me, but I honestly think they meant it.