Intel Hackathon at Earlham College
Hello all, my name is Ivan Babic and I am studying Computer Science at Earlham College. This April, we are hosting Earlham College Hackathon sponsored by Intel. Our problem statement is "Use technology and the power of visualization + geocoding to show location specific long term climate trends." 
So, how did everything started? The LittleFe team, I will talk about who the LittleFe  team is in one of the following paragraphs, was at the SIGCSE 2013 conference in Denver Colorado this March. As soon as Paul Steinberg, he is the Student Community Manager for Intel Software, mentioned doing hackathon at Earlham, Elena, another Earlham Student, and I literally jumped on this great opportunity.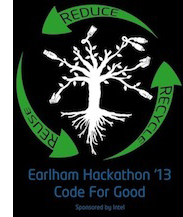 When we came back to Earlham, we visited almost all departments explaining to them what hackathon is and we asked them for theme suggestions. In a few days we had a huge list of amazing and completely cool ideas. Then we started exchanging e-mails with Paul and Brad.  Soon after that, Elena and I had a conference call with them during which we presented all of the collected ideas. At the end of the call we decided what the theme is going to be and formalized the problem statement. Our next step was identifying the field expert who would provide critical subject expertise to the Hackathon participants. A few hours ago, I found out that Dr. Geoffrey Fox form Indiana University has agreed to do so. Great news just keeps coming every day. :) Other things we did were mainly related to logistics, including room reservations, student recruitment, logo design (thank you Leif)...

Just to put faces with pictures. Tom Murphy, exceptional and charismatic professor from Contra Costa College will be joining us. He and his students organized Intel Hackathon at Contra Costa College in 2012. Furthermore, he is a member of the LittleFe and BCCD team. Brad Hill is Intel's HTML5 Application Engineer, and he will be coming as well. Charlie Peck is the chair of the Computer Science department at Earlham and one of the people who started the LittleFe and  the BCCD project. He is an amazing person and professor - words just can't describe it - and my mentor as well. :)
Today is the 4th of April which means that we have 23 days until the big event. I feel ready and everything is going as planned. If you would like to take part in this Hackathon, just contact us at "hackathon@cs.earlham.edu". And if you would like to host an Intel sponsored Hachathon at your institution contact Paul Steinberg, he can definitely help you.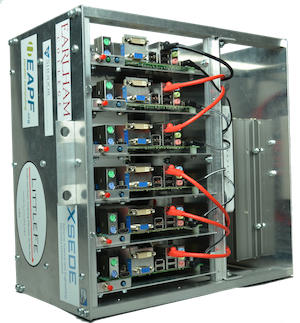 Almost forgot... LittleFe is a complete 6 node Beowulf style portable computational baby cluster which supports shared memory parallelism (OpenMP), distributed memory parallelism (MPI), and GPGPU parallelism (CUDA). Many institutions and teaching environments do not have access to parallel platforms for parallel and distributed computing education. Teaching key concepts such as speedup, efficiency, and load balancing are much more effectively done on a parallel platform. Our team has made great strides in helping college and high school teams build, use, and develop parallel programming and computational science curricula around LittleFe and BCCD over the past seven years, and especially with Intel's support, as key partner,  over the past two years. The combination of the gear and the curricula have enabled faculty at about 100 schools, who would otherwise not be teaching parallel programming, to include this subject in their classes; encouraged college and universities to include parallel programming in their course offerings; and facilitated greater exposure to Intel hardware and software tools. Hackathon at Earlham is going to use LittleFe platform as servers. 
Let me know if you have any questions or comments. :) 
------------------------------------------------------------ Update from April 9th ------------------------------------------------------------
This is just an update. We have finally got the room approval (picture is under). Earlham Hackathon will be taking place in the Earlham Wellness Center. The room is usually used as vip lounge for basketball games (left wondow) and swimming contests (right window). We will probably have access to the swimming pool so bring your swimming shorts/bathing suits :). Speaking off fun time, we will provide PS4 and Wii console so people can take breaks. Moreover, we will also make sure to bing jigsaw puzzle and many more fun things. 
Almost all spots (around 25) are filled. So far we have participants from Earlham College, Indiana University-Purdue University Indianapolis and Miami University. Wow, 18 more days. :) 
**Highlights**
What: Earlham College Hackathon sponsored by Intel 
When: Starts 27th of April @ 1pm - Ends 28th of April @ 1pm
Where: 801 National Rd W, Richmond, IN 47374
Status: We still have a few open spots 
Get in touch with questions.